Engaging, Ripped-From-the-Headlines, Live Webinars. 
Do you need a unique and affordable method to bring new and differentiated value to your membership, sales teams, distributors or customers? Consider live texting webinars.
What are live texting webinars? Now, in the 21st Century, webinars with live texting capabilities have the unique ability to engage the participants and have them learn using the most effective adult learning methodologies.
Webinars give your organization the opportunity to demonstrate you are committed to accelerating your business partners' success in turbulent times and uncertain futures. Give them the knowledge they need to accelerate their capabilities and thus their confidence.
Andy offers his cutting-edge live texting webinars 21st Century  featuring his state-of-the-art business mindset thinking.
Consider offering a webinar featuring Andy Birol's engaging presentation style and cutting-edge content. Representative topics include:
The Curious and Inquisitive Business Owner: Staying Ahead of the Business Curve
Keeping Your Business to Yourself: Run it as if You Were Selling It
Is Your Business Laying Eggs? Turning Your Ugly Duckling into a Golden Goose
Turning On Your Offline Business: Fight Back Against New Competitors
Building Insight and Accountability: Developing Your Next Generation of Owners
Lighting the Fuse: Stepping Away From Your Business Before You Sell It
Think Strategically Not Operationally: Focusing Your Company on the Present Not the Past
Historical Returns vs. Future Bets;  Balancing Both for Your Business
Thinking By Example: Pulling Your Executive Team into Looking Forward
Teaching 20th Century Business Dogs 21st Century Tricks. Protecting Your Wealth While Investing in Future Profits
Hitting Base Hits or Home Runs: What's Your New Game Plan?
Relationships or Outcomes? Which Will Your Customers Pay For?
Contact Andy know to learn how simply and quickly you can sponsor a engaging webinar to your audiences.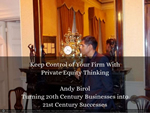 Keep Control of Your Firm
with Private Equity Thinking
Click here to view webinar.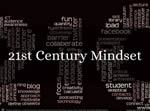 Exploring a 21st Century Mindset
Click here to view webinar.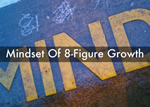 Mindset of 8-Figure Growth
Click here to view webinar.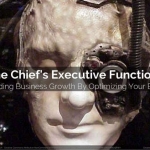 This Three Pound Muscle Controls Your Business Success
Click here to view webinar.