"I have known Andy for over 10 years and his knowledge, innovation, business acumen and genuine concern and care for his client are stellar, says Conference Co-Chair Dr. Gayle Carson CMC®,CSP. " He is the perfect example of how a one- person boutique firm can become a giant in the consulting industry."
"In the three years since I first met Andy Birol, he has proven himself as a leading private business growth expert. Andy has provided strategic consulting to a number of our members and they have been pleased with the results and the progress that they made. Andy developed and delivered a program for the Institute in 2013 that earned outstanding reviews and has members continuing to implement the impactful ideas presented. I recommend Andy as a consultant and program leader as his ideas, passion and contagious business optimism will energize your audience and add lasting value to your event's participants."
"Andy Birol is the quintessential speaker. He is knowledgeable, a true expert in his field and presents with a style that's well thought-out, meaningful and balanced with the right amount of humor to hold ones attention. His 15+ years on the speaker circuit, while being well published in addition, qualifies him to speak to new, seasoned or mature entrepreneurs, as well as, corporate management or executives. I highly recommend him if you want to grow your business!"
"I met Andy more than 2 years ago, and found him to be quite engaging. We enjoyed a spirited disagreement on how things "should be done", but in working with him came to a fast compromise that provided a win/win situation for us both. Since then, I have invited Andy to be a guest speaker and a number of my high profile events, including my primary event last fall at the National Constitution Center in Philadelphia. Since then, we have co-presented at Duquesne University and at Harrisburg, As usual, he never disappoints, but always exceeds expectations! He is a terrific speaker, does his homework on all subjects, and maintains an incredible knowledge base. I look forward to working with him in the future on my high end projects, and will always know Andy as a good friend and learned colleague."
"Through his workshops, speaking, articles, and by example, Andy has been a great asset to SMC and all business owners throughout PA. His ability to put theory and concept into actual and practical results has helped our members and his clients to grow. I recommend talking with Andy if you need to grow your business to the next level. "
"In the course of an hour and a half, Andy provided the context for the emerging energy economy in southwest PA, suggested strategies for how small businesses in the region can adapt their business models to take advantage of new opportunities, and engaged in case studies suggested by those in the audience. He not only set the table, he served the meal."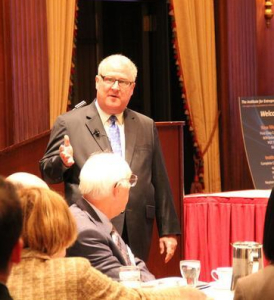 As the leader of the Institute for Entrepreneurial Excellence at the University of Pittsburgh, I engaged Andy Birol to present his thought leadership on how our member CEOs can achieve 8-Figure profitable growth. His unique approach to 21st Century thinking and how business owners can learn to lead their firms received the highest of scores and kudos. Andy engaged the audience through his deft handling of their questions as well as through his group exercises that enhanced their learnings. Andy really understands his target market and how they expect a truly compelling learning experience. He is an ideal fit for any association looking to provide their membership with cutting-edge thinking conveyed through the latest learning techniques to encourage active engagement
– Robert Stein, Director, Institute of Entrepreneurial Excellence, University of Pittsburgh
 "Smart. Experienced. Unconventional. Provocative. Effective.
In the decade that I have known Andy, he has brought every one of the words above to life in my mind. Andy has a singular focus for his clients. He is dedicated to their growth and their success – even when they may not be sure they are ready to do what has to be done to get there.
Andy has literally worked with hundreds of our members at every stage of growth and has helped them take the next step. I have encountered many "small business experts" in my time leading the Council of Smaller Enterprises. Many have theories and ideas. Andy backs his up with experience and results.
As a four-time winner of Northeast Ohio's prestigious Weatherhead 100 Award for explosive revenue growth, he not only helps his clients grow their businesses – he has employed his own tactics to grow his own at an award winning rate.
Last year, we engaged Andy to put his ideas to work in a new business growth course for mid-sized companies. Our participants reported results beyond their expectations and each made significant changes to their business, as a result, of the experience. As a result, we've renewed the course and are working to create another new program with Andy for growth-oriented business.
Andy's not about the show – he's about results. If you lead a chamber of commerce or a business organization, I encourage you to consider working with Andy to educate your members, enhance the resources your provide or even grow your own membership. If you are a business owner and you are ready to be challenged to overcome the excuses and grow your business I recommend you consider Andy to help you create the profitable top line growth your business needs."
Call me if you'd like more information. But, more importantly, I encourage you to talk candidly with Andy about your challenges. Push him hard on how he can help you and he'll push right back to get you there." 
–Steve Millard, President and Executive Director
COSE Council of Smaller Enterprises. 
"I have known Andy for over 10 years and his knowledge, innovation, business acumen and genuine concern and care for his client are stellar, says Conference Co-Chair Dr. Gayle Carson CMC®,CSP. " He is the perfect example of how a one- person boutique firm can become a giant in the consulting industry."
– Dr. Gayle Carson CMC®, CSP
Institute of Management Consultants USA (IMC USA)
"In the three years since I first met Andy Birol, he has proven himself as a leading private business growth expert. Andy has provided strategic consulting to a number of our members and they have been pleased with the results and the progress that they made. Andy developed and delivered a program for the Institute in 2013 that earned outstanding reviews and has members continuing to implement the impactful ideas presented. I recommend Andy as a consultant and program leader as his ideas, passion and contagious business optimism will energize your audience and add lasting value to your event's participants."
–Ann M. Dugan, Founder, Institute For Entrepreneurial Excellence, University of Pittsburgh
"Andy Birol is the quintessential speaker. He is knowledgeable, a true expert in his field and presents with a style that's well thought-out, meaningful and balanced with the right amount of humor to hold ones attention. His 15+ years on the speaker circuit, while being well published in addition, qualifies him to speak to new, seasoned or mature entrepreneurs, as well as, corporate management or executives. I highly recommend him if you want to grow your business!"
– Larry E. Dittmann, President/CEO
ExecuStar
"I met Andy more than 2 years ago, and found him to be quite engaging. We enjoyed a spirited disagreement on how things "should be done", but in working with him came to a fast compromise that provided a win/win situation for us both. Since then, I have invited Andy to be a guest speaker and a number of my high profile events, including my primary event last fall at the National Constitution Center in Philadelphia. Since then, we have co-presented at Duquesne University and at Harrisburg, As usual, he never disappoints, but always exceeds expectations! He is a terrific speaker, does his homework on all subjects, and maintains an incredible knowledge base. I look forward to working with him in the future on my high end projects, and will always know Andy as a good friend and learned colleague."
– Dave Yunghans, Regional Director
Constant Contact
"Through his workshops, speaking, articles, and by example, Andy has been a great asset to SMC and all business owners throughout PA. His ability to put theory and concept into actual and practical results has helped our members and his clients to grow. I recommend talking with Andy if you need to grow your business to the next level. "
– Steven Shivak, President 
SMC Business Councils | SMC Insurance Agency
"COSE partnered with Andy in 2009 to begin delivering a high quality program called the COSE Business Growth Course. This was catered exclusively to business owners, presidents and advisors who were dissatisfied with the status quo and were serious in their commitment to do what is necessary to raise their business to the next level and attain profitable growth. Not only did he raise each participant's awareness level, he ensured that each participant graduated from the course with a complete vision to conquer their Best and Highest Use. Andy's unique approach and straight-talking manner resulted in an amazing program. He is an invaluable small business expert in the area of growth management."

"I recently had the good fortune of attending Andy Birol's presentation: "The Mindset of Eight-Figure Profitable Growth. I highly recommend it to anyone interested in knowing the mindset changes that MUST be taken to achieve eight-figure business growth in today's world. I had been sensing that there had to be a better way—a new paradigm for growing a business in order to keep pace with the rapid changes in the market today. Andy confirms it's true. The old mechanisms are gone and he expertly conveys what the new mechanisms are. One point is that you should only assume a 24-month shelf life for anything you do. The presentation was truly an eye-opening experience for me and we've already begun to implement changes at Datacolleqt from what I learned."
– Mark Krofchik, CEO, Datacolleqt
"It was indeed a pleasure to be attending your seminar at the Institute For Entrepreneurial Excellence meeting. 
The ideas your presented were realistic and practical. There is a definite advantage in terms of agility, stability, strength and worthiness that comes with moving the company size from 7 figure to 8 figure.
Your presentation reinforces this fact for the owner, encourages strategic thinking and plants the seed to develop a plan with a sense of urgency. Personally, it reinforced my ideas for our business. If I can be of any help, please let me know."
– Singh Ajmani, CEO, Logix Guru
— Nicole Stika, Education Director
COSE
 "In the course of an hour and a half, Andy provided the context for the emerging energy economy in southwest PA, suggested strategies for how small businesses in the region can adapt their business models to take advantage of new opportunities, and engaged in case studies suggested by those in the audience. He not only set the table, he served the meal."
– Frank Horrigan, President
Monroeville Area Chamber of Commerce
Your seminar was very provocative and stimulating. Topics covered were thought provoking with practical suggestions on how to implement. It was unanimous – all participants would recommend Andy's workshop to other business owners. Each took away ideas to grow their business-in any economic environment.
Barbara Blake, President, NAWBO Northeast Ohio Chapter
CEO, Longview Associates, LLC
"Andy is a great cheerleader for small business; I am motivated just listening to him."
– Hector Barreto, Administrator, 
U.S. Small Business Administration
"We were very fortunate to have Andy Birol present at our national conference and he really delivered! His sessions were no fluff and all stuff with lots of practical value delivered in a very credible style. I had many people tell me that they had many take-aways from Andy's session. I hope that I get to hear him again soon!"
– Todd Ordal, CMC 
Institute of Management Consultants USA (IMC USA)
"Beyond an excellent creator and presenter of his original Marcellus content, Andy is a champion for any small company who wants inclusion in the Marcellus Business Boom. He not only makes you think outside of the box, but also forces you to step on and smash that box! Andy's enthusiasm is contagious and he will help many businesses in the years to come."
– Judith Woodson McNeil, Program Coordinator
Riverside Diversity Center
"Andy Birol is a popular national contributor to our "how-to" section, which provides business advice to the CEOs, executives, entrepreneurs, and small business owners, who read our publications in 43 markets around the nation. He is candid, hands-on and blunt — a style that has helped business owners to learn how to run, fix and grow their companies. Now readers can see Andy in action in our new video series."
Ed StychNational Special Sections Editor at American City Business Journals
"As a leader of the IADD, I would recommend Andy Birol to any group, as he is a well-informed, tough but respectful facilitator who brings content and humor to his task."
Joe Adkison, ADKO Inc.
"Andy knows his information so well, you can watch him changing and customizing his presentation to fit his audience's needs on the spot. His presentation is logically structured and he's skilled at taking the audience's situations and applying his information."
Jeff Hurt, Manager
Education & Certification -Promotional Products Association International
"Andy gave a fabulous presentation at the Lincolnshire International partners meeting in Cleveland this week. His theme is helping owners of private companies get "there." And, he helps them to define what "there" means operationally."
Larry StybelStybel Peabody Lincolnshire
Retained Search; Global Talent Management; Leadership Development
Need help with business development?
A strategic marketing plan? A growth strategy? Put Andy's expertise to work for you – contact Andy today!